CAI Award recipient publishes 'Thank you'
Needham Market Aerials Ltd, recipient of this years' CAI Company of the Year Award presented CAI staff with a glowing acclamation of their membership with the CAI. This year's winner had only praise and support for the work of the CAI in raising their company profile since joining 20 years ago. In a specially prepared statement Simon Little expounded how CAI membership had played a vital role in securing more and more tenders leading to welcome growth in business – an aim the CAI has made fundamental to its long term strategy of representing the industry. Simon stated that he was now winning tenders from local authorities, housing associations, the NHS as well as numerous property management companies. He goes on to write: 'This makes us all, as CAI members, a very respected work force observing health and safety practices, consistent technical standards and a high level of service delivery that we can all be proud of all whilst being supported and encouraged by the Confederation of Aerial Industries and the industry experts that are presenting, talking and exhibiting at today's 'Evolving Connectivity' trade show'. He continued by thanking Kevin Dawson and the entire team at the CAI for helping his company to achieve the award as the CAI was hugely responsible for his company's reputation. He carried on by thanking all his colleagues as a dedicated team who clearly enjoy their work and make his business one to be proud of.
Also being rewarded for his achievements was Graeme Walker of Signal Systems (UK) Ltd. Graeme won 'CAI Terrestrial Installer of the Year' and in his absence the CAI's Kevin Dawson accepted the award from Paul Blake, MD of Blake UK Ltd who sponsored the award.
It's uplifting to hear a compliment now and then – in a world that only tends to call you with bad news or problems!
Back to the blog...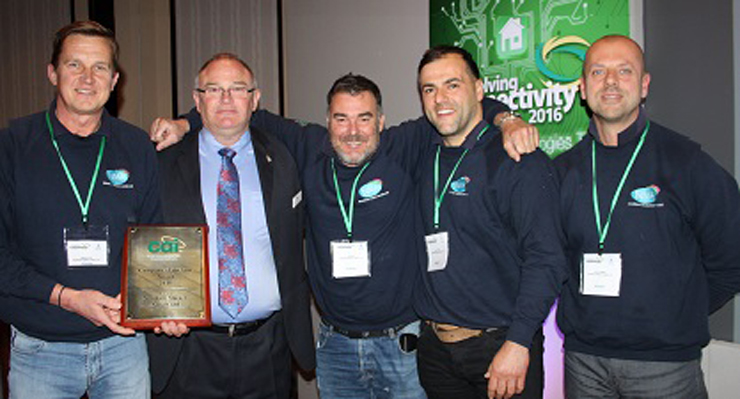 Not only do their engineers display the highest levels of professionalism but the office personnel are friendly and efficient.

Craig John Deakin
H & C Moore, Leeds