Reaching the Summit – with the DTG
The Digital Television Group (DTG) calls itself the 'UK collaboration centre for innovation in digital technology' and that covers a pretty broad canvas when you consider that life itself appears to have become 'digital'.
The opening gambit in the welcome pack to their 10th annual summit used an interesting turn of phrase in referring to the receipt of 'small amounts of funding from a wide range of industry stakeholders'. Renting Kings Place near Kings Cross London probably amounted to a third of the CAI's annual income! It's all relative of course, the profit and loss account of Sainsbury's is probably amoeba-like compared to that of BP or Shell, the accounts of the CAI against those of the DTG could be a David and Goliath comparison – but we like the DTG, they like us as the CAI and we get along famously and they do this 'summit' thing very well. And so it was it came to pass that we reached the summit, along with our humble pop-up stand and provided a suitable meeting post for our friends in broadcasting. A huge agenda of speakers chosen from the ranks of the wise and wonderful of the digital universe gave fine lengthy talks – some fascinating some mind-numbing. But the DTG profile attracts the likes of Dermot Murgnahan that famous ex-ITV and BBC newsreader now with Sky, to host the event so this is a gathering of the top folk in the media game. The key words that emerged once the professions worked up a head of steam where 'fragmentation' and 'standardisation'. In a world that has become so insanely complicated when it comes to communicating, many are finding 'navigation' through it all quite daunting. An early welcome conclusion was the fact that digital terrestrial TV in the UK reaches 99.8% of the population who are both rich and poor – a very welcome statement. It appears subscriptions appear to have stalled on penetrating further as folk get their heads around a plethora of downloading and streaming visual and audio media. It's harder and more complicated to work out what is the right deal. The broadcasters now have to straddle numerous platforms and then try to not charge us any more for the privilege. A wise panel of gurus concluded the UK still to be the most innovative economy in the world when it comes to broadcast and media delivery – that's both on content and the technical front. And all this on the day the good old BBC took another kicking…weirdly telling the world on its own news channel.
So… as we all send everything off into 'the cloud' – as long as it doesn't rain, we may still be able to earn a crust as installers.
Back to the blog...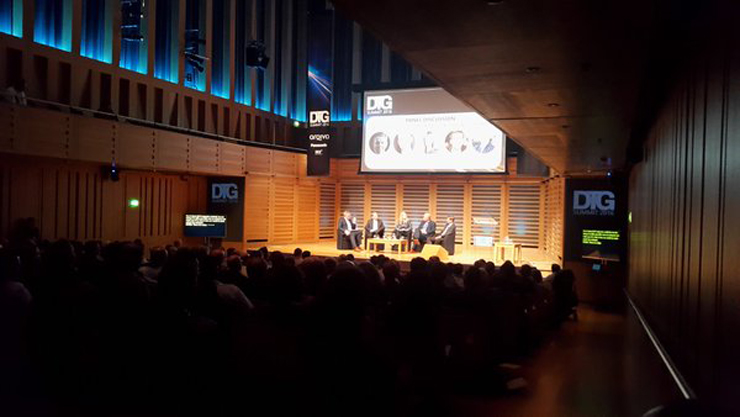 Not only do their engineers display the highest levels of professionalism but the office personnel are friendly and efficient.

Craig John Deakin
H & C Moore, Leeds