Plans now underway for 700 MHz clearance
The ever-moving feast of aerial changes for 700 MHz clearance goes to a count of 160,000 households this month as Ofcom announce further consultation with stakeholders on the project.
The Government is considering whether there is a case for making public funding available to support viewers and wireless microphone owners with these changes. It has requested advice from Ofcom on the effects the changes will have on stakeholders, the options for addressing these effects and the associated costs.
As the main industry organisation on the case, the CAI has secured Kate Macefield from DUK and Graham Plumb from Ofcom as keynote speakers at this year's 'Evolving connectivity 2016' – a good enough reason for making sure you attend this show - if you need one.
Ofcom estimates that an information and advice campaign for viewers could cost up to £5.5 million. Viewers served by the following transmitters are likely to be worst affected, due to the frequencies used by local Freeview transmitters and the types of aerials traditionally installed for reception in these areas.
The call for input document is available on the Ofcom website and is open until 13th May 2016. As previously outlined by Ofcom, the first retunes are likely by the end of next year. Frequency changes could be completed by the end of March 2020.
In order to accommodate technical work at transmitter sites, some sites will have temporary masts erected in order to keep Freeview services available to viewers. At the end of the process, it is envisaged that coverage of the main channels will be about the same as now, with coverage of the full set of channels as close as possible to current levels. A very small number of viewers, not specified by Ofcom, may lose coverage.
Work is underway to identify alternative frequencies across the UK. As part of the call for input, Ofcom has confirmed that Freeview services from the Winter Hill transmitter (ITV Granada region) could move to the following frequencies in the next few years - all channels would move to new frequencies triggering a main retune event in this region.
Local multiplexes are to be confirmed. COM7/8 are scheduled to be moved then closed by Q1 2020, subject to the outcome of an Ofcom consultation. Some channels will have to change multiplexes and it is likely further services will be transferred to the newer DVB-T2 broadcast standard used by Freeview HD channels by the end of the decade. For the consultation details "Click Here".
Back to the blog...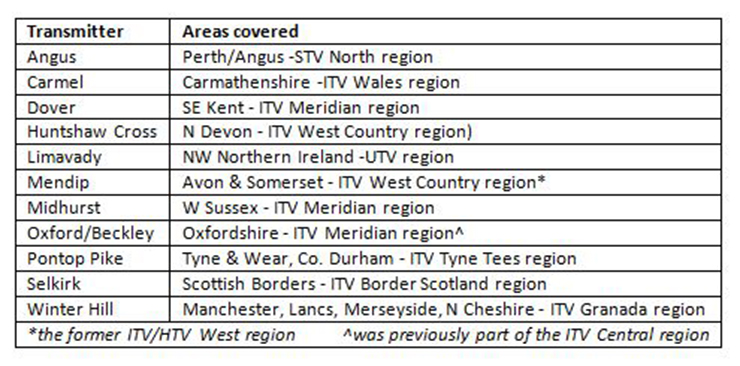 Not only do their engineers display the highest levels of professionalism but the office personnel are friendly and efficient.

Craig John Deakin
H & C Moore, Leeds